Available for order or stream FROM RFL RECORDS
News & Updates
NEW ALBUM/CD AVAILABLE NOW!!!! CLICK IMAGE
"let me fly" single Launched in south koreA
Great to have #RFLRecords artists now represented in #southKorea and beyond on #Melon Mind of Fury the latest to be launched 👉 melon.com/album/detail.h… 👈 #musicnews #MetalNews #asia #easternasia
Great show at piper'S SATURDAY NIGHT!
Thanks to Piper's Sports Bar and MADE OF METAl for having us on this show! Thanks to all of the people that came out to support the local metal/music scene! Shout out to ELECTRIC VOID for getting the place rocking!
NEW ABLUM ARTWORK & RELEASE DATE
Mind Of Fury's New Album "The Fire" drops July 5th on RFL Records. Here is the New Album Art and a snippet of the opening track "Make A Change"
NEW VIDEO SINGLE RELEASED!
Florida's monsoon of Melodic Power Metal, Mind Of Fury is slated to release their brand new album "The Fire" on June 21st via RFL Records with the first single and video "Let Me Fly" releasing on April 19th. The trio delivers a special brand of hard rock that captures the huge, hooks and heavy thunder of the power metal elite, combined with the killer progressions of a neo-classical flair and with "The Fire," the band brings a heavier push, but lathers that with the classic hooks that cater to a wide degree of fans.
The band adds:
"We are excited to unleash this new song to the Metal/Rock community! We are very proud of this new album and can't wait for you, the fans to hear it!"
Thank you Andrew Cantania & All That Shreds
MERCH STORE HAS NEW PRODUCTS! GO CHECK IT OUT!
We have been honored to be included in this album check it out now!!!
ROCKLAHOMA Was a great time! ThANk you to the fans for the awesome response!
Ghee-Yeh new endorsements SIT STRINGS AND LIZARD SPIT!
Hey!!
We are honored to announce that Gheeyeh has been endorsed by SIT Strings
Thank you for your support.
"It is my pleasure to add Ghee Yeh to our select Lizard Spit Artist line-up, you may have seen his videos from Winter NAMM 18' Performances (he was melting faces at our booth - Ghee is Fearless and Ferocious). For someone that is so talented YET so modest really left a premium impression. Definitely check out his killer band MIND of FURY ( @mindoffuryband ). Thank you Dean Cascione for introducing us to the "Chilean virtuoso" Ghee Yeh"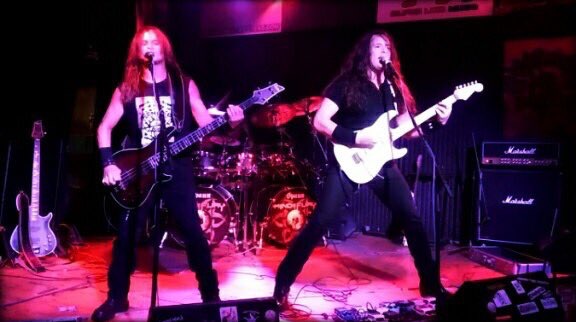 IN SEPTEMBER 2015 MELODIC HEAVY METAL BAND MIND OF FURY WAS FORMED BY MUSICIANS GHEEYEH, HENRY MORENO AND MIKE FRANKENBUSH. GHEEYEH ORIGINALLY HAILING FROM SANTIAGO, CHILE MOVED TO THE STATES IN 2012. HE RECORDED AN ALBUM WITH NICK Z. MARINO (YNGWIE MALMSTEEN KEYBOARD PLAYER). GHEE'S UNIQUE STYLE HAS BEEN DESCRIBE AS METALLICA, MEETS PANTERA, MEETS YNGWIE - BIG RIFFS AND SHREDDING GUITAR. HE MOVED TO CENTRAL FLORIDA WHERE HE MET HENRY MORENO (EX-IMAGIKA, EX- TAUNTED). ORIGINALLY FROM SAN JOSE, CALIFORNIA, HENRY SPENT THE LAST TWO DECADES TOURING AND RECORDING MUSIC IN THE VAIN OF BAY AREA THRASH METAL. GHEE AND HENRY CONNECTED IN FLORIDA AND ADDED MIKE FRANKENBUSH TO COMPLETE THE POWER TRIO. A CHICAGO NATIVE, MIKE WAS THE PERFECT COMPLIMENT WITH HIS THUNDERING SOUND REMINISCENT OF POWERFUL HEAVY METAL HITTERS. THE CHEMISTRY WAS RIGHT, SO MOF DECIDED GHEE WOULD TAKE ON VOCAL DUTIES AND SO BECAME MIND OF FURY. THE BAND QUICKLY WROTE, RECORDED, MASTERED AND RELEASED THEIR DEBUT ALBUM DO OR DIE DESCRIBED AS HARD-HITTING, MELODIC HEAVY METAL. MOF IS CURRENTLY PLAYING SHOWS AND WORKING ON THEIR SECOND FULL-LENGTH RELEASE DUE OUT EARLY 2018
Vocals, Guitar / Ghee Yeh
Bass / Mike Frankenbush
Drums / Henry Moreno
"Let Me Fly" Single 2019
Taken from the Forthcoming Release "THE FIRE" available July 15th on RFL Records
DO OR DIE 2016
Debut CD released late 2016
Produced by GHEE YEH
Guitars, Bass and Vocals recorded at Powerlead Studios Sorrento FL
Drums recorded at HH Studio Apopka FL
Mixed and Mastered at Powerlead Studios Sorrento FL